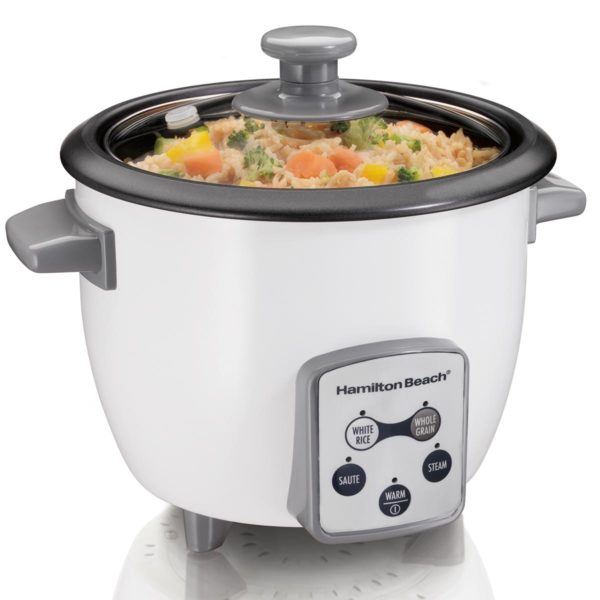 Mulit-cookers have become very popular since they can handle a variety of task, but does that mean that single-purpose appliances are no longer relevant? Absolutely not. Since I eat quinoa almost every day, I was looking for an appliance that would cook my food, while I tended to more important tasks. I found what I was looking for in the Hamilton Beach 6 Cup Capacity Digital Rice Cooker.
This $28 appliance produces tasty, fluffy quinoa in about an hour.  I simply rinsed my grains in the companion steam basket, placed the grains and water in the cooking bowl, pressed the Whole Grain button and walked away. If you are looking for a cooking hack, the Hamilton Beach Rice Cooker allows you to cook grains without having to worry about if you're burning your dish. This space-saving cooker can also be used to warm up your leftovers.
To make the cooker better, it would be great if Hamilton Beach would make the two-foot cord longer. The shorter cord limited where I could place the cooker on the counter.
Mistress Susan's Secret Tip: Instead of using a microwave to heat your food, use the Hamilton Beach Rice Cooker.
Disclosure: I was given the Hamilton Beach Rice Cooker as part of a product review. Although the product was a gift, all opinions in this review remain my own and I was in no way influenced by the company. Mistress Susan TV prides itself on providing honest reviews, which is why an area for improvements is sometimes listed for each product.